The Top Rated Medical Spa in Madison AL
Your Wellness and Aesthetic Center in Madison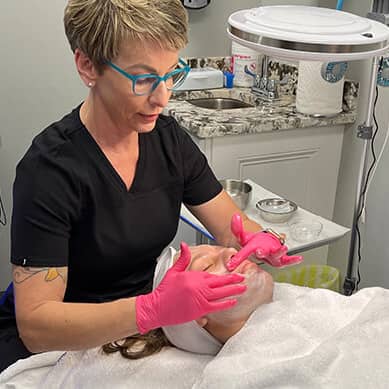 Get in touch with Madison Wellness & Aesthetic Center to discover your next step, or create a complete wellness and aesthetic plan
Book Appointment
Madison Wellness and Aesthetic Center is proud to serve the fantastic communities of Madison and Huntsville, Alabama. With so many things to see and do, Madison and Huntsville have so much to offer. With endless dining and shopping options, the Madison-Huntsville area is a great place to visit or call home.
For outdoor lovers, check out the Rainbow Mountain Nature Preserve. Just a stone's throw away from Hughes Road lies this extraordinary preserve with more than three miles of trails boasting breathtaking views and picnic areas. Among the many remarkable rock formations, "Balance Rock" is a popular destination among the many remarkable rock formations.
For adults and children alike, the U.S. Space and Rocket Center is a must-see. Enjoy interactive exhibits and activities like the flight simulator experience, or sign up for Space Camp to learn about space exploration, aviation, and robotics.
Your Wellness and Aesthetic Center in Madison
To help you look and feel your best, our highly trained medical professionals specialize in providing a range of aesthetic and wellness services. We offer a variety of treatments, from laser hair removal and skin rejuvenation to Botox and dermal fillers. Our center is equipped with state-of-the-art technology that allows us to provide the most effective treatments for our clients.
Botox Huntsville AL
Botox is a popular cosmetic procedure used to reduce the appearance of wrinkles and fine lines. Our medical professionals can help you decide if Botox is right for you, as the results are tailored specifically to each patient's needs. Botox, along with Xeomin, has many beneficial properties, including minimizing wrinkles, softening facial lines, and treating chronic headache pain.
Dermal Fillers Huntsville AL
Dermal fillers restore lost volume and add shape, volume, and structure to the skin. Dermal Fillers have many applications, but the most popular areas treated are the lips, cheeks, and jawline. Our medical professionals offer a variety of dermal fillers like Juvederm and VERSA, tailored specifically for each patient's needs.
Facial Huntsville AL
From Vampire Facelift, Hydrafacials, microdermabrasion, and so much more, our medical spa in Madison provides a full range of facial treatments to help you look and feel your best. Whether you're looking for an exfoliating facial or want to reduce the appearance of acne scars, our professional staff can customize a treatment that's right for you.
Tattoo Removal Madison AL
If you've changed your mind about a tattoo, our medical spa offers laser tattoo removal. Our trained technicians use state-of-the-art technology to safely and effectively remove tattoos with minimal scarring or discomfort. We understand that many people regret their tattoos, so we strive to provide the most effective removal solution to ensure your satisfaction.
Laser Hair Removal Huntsville AL
Laser hair removal is the ideal solution for eliminating unwanted body hair. Our medical spa offers laser treatments that can reduce the need for regular waxing or shaving, providing a permanent and painless alternative. We use state-of-the-art technology to safely remove unwanted hair from virtually any area of your body, including legs, bikini areas, underarms, and more.
Biote Huntsville AL
Biote is a hormone replacement therapy treatment that can help to regulate and treat hormone deficiencies. Our certified medical staff will assess your unique needs to create a customized treatment plan tailored to you. Biote helps reduce hormone imbalance symptoms, such as depression, hot flashes, night sweats, low libido, and more.
Weight Loss Clinic Huntsville
Our medical weight loss treatments are customized, multi-faceted programs that combine lifestyle changes, medication, and nutrition guidance to help you lose weight and develop healthy habits. Wegovy (semaglutide) injections are one of the treatments we offer for weight loss. When combined with diet and exercise, this prescription injection has been found to help people lose weight and keep it off long-term.
Helping You Feel Your Best Inside and Out
Our medical spa strives to provide the most comprehensive and effective treatments in Madison, AL, and Huntsville, AL. Our experienced team of medical professionals is dedicated to helping you look and feel your best by providing personalized care to meet your unique needs. From laser hair removal to Botox, we have the treatment for you!
If you are searching for a medical spa near me, contact Madison Wellness and Aesthetic Center to see why we are the best medical spa in Madison, AL. To schedule an appointment, call (256) 722-0555 or complete the online booking form. We look forward to meeting you!