Chad Gilliam, M.M.S., PA-C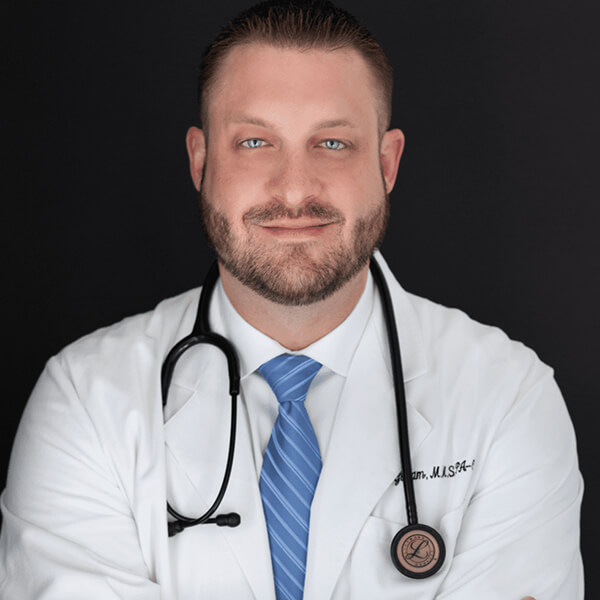 Chad Gilliam, M.M.S., PA-C
Hormone Therapy and Hashimotos Treatment in Madison Alabama
"I really enjoy helping patients look and feel their very best.  I have been practicing medicine as a PA since 2009.  In those years I have learned and honed techniques to optimize patients sex hormones, adrenal hormones , and thyroid hormones. I combine these hormone balancing techniques with an approach of seeing my patients as a whole thus allowing me to balance the entire body.  By balancing the entire body I am able to prevent diseases like hypertension, heart disease, diabetes and much more before they present."
Book Appointment
About
Our Clinic Was the First to offer Biote Hormone Pellet Therapy in Madison County Alabama. We have successfully treated thousands of patients suffering from menopause, andropause, and hormone imbalances. Some members of our medical team even act as mentors for biote helping other biote clinics with their troubled cases.
Chad Gilliam specializes in Wellness Medicine and Hormone Balancing. Rather than focusing on just one area, he treats the entire body, blending natural and prescription medicine to help address the causes of his patient's ailments rather than just covering up the symptoms.
Chad has a Master of Medical Science (M.M.S) degree with a concentration and certification in Physician Assistant studies from Nova Southeastern University, where he also received clinical training in Endocrinology. Prior to his graduate education, Chad earned a B.S. in Biology with a minor in Chemistry from the University of South Alabama.
I enjoy spending free time with my three children and lovely wife Dotty. My hobbies include: hunting, fishing, and traveling.